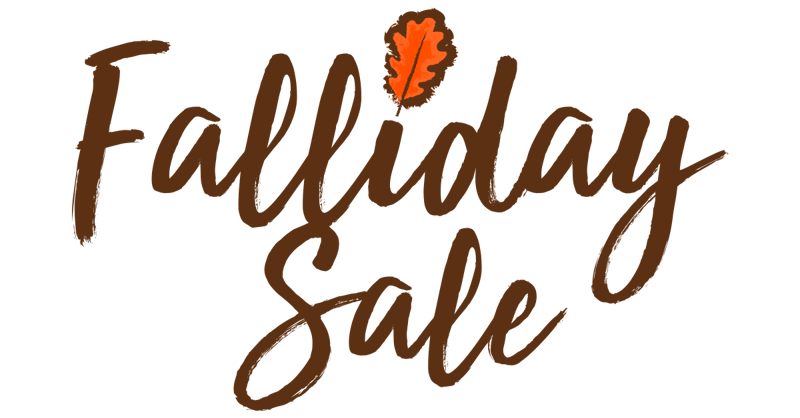 Start Falling for Fallidays
Count Down 100 Days to Christmas Sept 16-Dec 24
Commemorating a century in the Intermountain West, IFA is counting down 100 days to Christmas. Take advantage of one-day-only specials throughout the fall and holiday seasons on your favorite gardening, lawn care and farm essentials as well as go-to gifts during the new IFA Fallidays Sale between September 16 - December 24.
Sales are valid 1-day only on specified dates. Check back regularly for updated promotions through the season. See upcoming weekly promotions below and shop online.
*Promotions are only valid on specified days.
Preserve Your Summer
Daily Sale Items for Sept 18-23
Check off your favorite gardener's Christmas list early with tools to preserve the garden harvest or save on things you need to save. Shop IFA Fallidays sale items for long-lasting flavor.
Thursday, Sept. 21
$59.99

(Original $72.99)
For any cook who wants to take the hassle out of homemade products like jams, purees and sauces, the Johnny apple sauce maker is the ideal solution. Simplify tasks like making apple or tomato sauce. The stainless steel screen effortlessly separates the skins and seeds from the fresh pulp. With our accessory screens and electric motor, the versatility is endless.
Friday, Sept. 22
$19.99

(Original $39.99)
Ancra's single line 1-ton cable puller is made with high-strength galvanized steel cable and electro-plated steel components, providing a solid solution for fencing and utility applications. Dual stamped metal ratchet wheels provide smooth function while drop-forged steel slip hooks with safety latches offer a solid connection.
Saturday, Sept. 23
$55.99

(Original $69.99)
Dehydrate fresh fruits, vegetables, herbs and spices for a fraction of the cost of commercially dried foods. Bottom-mounted fan and heating element provide consistent air flow for optimum drying. See-through cover lets you monitor the drying progress. Make fruit rolls and strips from fresh, frozen or canned fruit.
Fall for the Outdoors
Daily Sale Items for Sept 25-30
Get outdoors with fall essentials for everyone. Shop animal health, tack, power equipment and clothing this week during IFA Fallidays.
Monday, Sept. 25
$11.54

(Original $16.49)
Clean cuts and wounds, relieve pain and jumpstart the healing process with Vetericyn Plus liquid products. Vetericyn Plus® all-natural wound care products help to remove dirt and impurities and cleanse your animal's wounds, setting the stage for optimum healing conditions. Use it to clean, debride, irrigate and moisturize wounds. In addition, it is an excellent choice for moistening wound dressings.
Tuesday, Sept. 26
$12.99

(Original $15.99)
Secure all your camping, tailgating and other gear this fall. If you're looking for the lowest cost with no added display cartons or frills, this is the model for you. Trust a great value med handle ratchet with heavy-duty metal hooks.
Wednesday, Sept. 27
$279.99

(Original $299.99)
The EGO POWER+ 16 in chainsaw features an advanced, high-efficiency brushless motor that delivers power equivalent to a 40 cc gas chainsaw. Powered by any EGO POWER+ 56 V ARC Lithium™ battery, Experience Power Beyond Belief™ without the noise, fuss or fumes.
Thursday, Sept. 28
$4.49

(Original $5.99)
Protects recreational vehicles and summer cottages and swimming pools from water system freeze up to 50 deg burst. Nontoxic and tasteless. Safe for fresh water systems. Inhibit fouling and corrosion while preventing algae growth. Helps lubricate pumps and valves throughout the system. 100% concentrate - no mixing required.
Friday, Sept. 29
$100 Off All Western Saddles
Find the perfect fit for you and your horse with a new saddle. Choose from trail, barrel racing, roping, ranch, all-around and youth saddles to start riding. *Only available at select IFA locations: UTAH-American Fork, Cedar City, Ogden, Richfield, St. George and Vernal; COLORADO-Cortez; NEVADA-Las Vegas; NEW MEXICO-Farmington. Selection varies by store. Pack saddles and accessories excluded.
Saturday, Sept. 30
$10 off the reg. price

(Original $44.99-$46.99)
Berne Ripstop Vests are your ideal outerwear for enjoying fall outdoors. A water and oil repellent finish keeps you dry and clean throughout the day and an extended back provides added warmth when temperatures drop. Enjoy your fall in comfort!
Start growing the things you love with an online IFA account. Use your IFA.coop account to purchase online and pick-up in-store.
Create an online account and link it to your current IFA Account. All you need to get started is (1) your IFA account number and (2) the email address or phone number associated with your account.
For help with your current IFA Co-op Account info, contact Receivables@IFA.coop or call 801-908-1233.